Manage your Account
Housekeeping
Here are some automated tasks that you can perform on line. You may be asked for your username (the part before the "@" sign for the primary user on your account), plus the password. If you get stuck for any reason, please call us at 1-888-988-2700 or at 988-9200 in Santa Fe. We also maintain local numbers in many New Mexico communities.
Forwarding Email or Using the Auto Responder
If you would like to forward email to a different address or to create an automatic response to let friends know you are away, please access Web Mail. The Options menu in Web Mail allows you to customize many features including email forwarding and setting up an auto response.
Customer Service: Marlana, Elizabeth and Chris
Our Approach to Spam
We block as much spam as possible and store it on a remote server. Each subscriber can access a Dashboard with various options to block or permit specific senders. The login screen asks for your "Email". You can simply put in your username (the part before the "@" sign of your email address), or you can enter your username@cybermesa.com. Even if you use a different domain for your email address, to access your Dashboard you need to use the "@cybermesa.com" as the domain.
Net Neutrality
Cyber Mesa supports Net Neutrality. We do not interfere with content or its delivery speed. We think that the repeal of Net Neutrality may disadvantage the United States on a global scale. Hopefully, the judicial system will overturn the repeal of Net Neutrality in the near future.
Email When You Travel
Cyber Mesa offers Web Mail so that you can check your email from virtually any computer anywhere that has Internet access. You can log in from our home page or from this page. We do not recommend Web Mail as a substitute for a real email program that resides on your computer and stores your email locally. Web Mail is great when you are away from your own devices and need to access your email.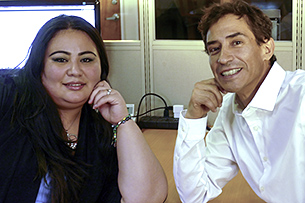 Ruth and Jeff in Tech Support
Important Resources
Telecom Information