Cyber Mesa Domains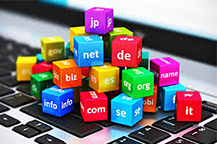 Every domain name is unique. In turn, every domain represents a unique Internet Protocol (IP) number. While the dot-com names are the most coveted, there are many other high-level domains such as .tv, .ws,.info, .home, etc. You can view all them at the Internet Assigned Numbers Authority (IANA). Many are available for your use, if you elect to acquire your own domain.
Often times domains serve to identify a website, but domains also complete an email address as in "duggan@cybermesa.com". Cyber Mesa offers a number of domains that along with your username can form your email address. All of the domains are interchangeable with cybermesa.com.
newmexico.com
abq-nm.com
espanola-nm.com
alamogordo-nm.com
lasvegas-nm.com
cyber-community.com
losalamos-nm.com
cybercrossings.com
santafe-newmexico.com
cybercrossings.net
silvercity-nm.com
cybermesa.net
taosmesa.com
deming-nm.com
Beyond our offerings, you can register your own domain which can be used just for email, or for a website as well. If you own your own domain, you never need change your email address again. In a similar vein, if you use a Cyber Mesa address but go to a different provider for any reason, you can keep your email with Cyber Mesa for about $5 per month.
There are many registrars for domains, some more reputable than others. Cyber Mesa recommends Network Solutions or GoDaddy. If you bring your domain to Cyber Mesa, you will need to list our domain server information with the registrar:
| | |
| --- | --- |
| Primary DNS Server: | internet.cybermesa.com |
| Secondary DNS Server: | ns2.cybermesa.com |
To learn more give Cyber Mesa a call at 988-9200 in Santa Fe (1-888-988-2700 from other areas).