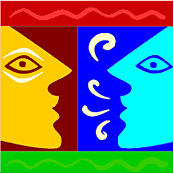 Cyber Mesa Voice Mail Instructions
The following describes the set-up and operation of your mailbox for Cyber Mesa Voice Mail. You still may need to contact us, however, if you want to change the number of rings before your Voice Mail intercepts the call. The default number of rings that you will hear is three, though the caller hears four rings. We can adjust the number of rings upward from there.
To Call in from your Cyber Mesa Phone Line
To access the voice messaging system from your telephone number, or another Cyber Mesa telephone number that has voice mail, you should press *98. If *98 does not take you to the Voice Mail Set-up, try the procedure for calling voice messaging from a non-Cyber Mesa phone line. You should hear the following message: "Please enter your password, or if you've entered the wrong mailbox number press *".
The default password for new users is 1234. Enter 1234 from your phone. If you are dialing from a line that is not the number for you Voice Mail, press *, and enter the 10-digit phone number for which you want to access Voice Mail (e.g., 5057959999). You will hear: "Please enter your password." Enter 1234.
To Call in from Another Company's Phone Line
If you are dialing from a line that is not a Cyber Mesa telephone number with Voice Mail, you will need to call into a Cyber Mesa Voice Mail number that is local to you:
| | | |
| --- | --- | --- |
| Alamogordo | 551-5099 | 575 |
If you are calling from a different area code than the one for the Voice Mail number, you will need to dial 1 plus the area code and number for the mailbox.
When the voice mail system answers you will be prompted: "Welcome to Octel voice information processing. Please dial the number of the person you're calling. If you have a mailbox on the system please press pound [#]." Press # and you will be prompted: "Mailbox number please." Enter the 10-digit phone number for your voice mailbox (e.g. 5057959999). You will then hear: "Please enter your password." The password we assign for new users is 1234. Press 1234.
Changing your Password
The first time you access your voice messaging system, you will need to go through the set-up process. You will hear a short tutorial on the messaging system which will include the following announcements:
Hello, this voice message system can help...

--- and finally ---

Your system manager has assigned you a temporary password. Please enter that temporary password now.
Enter the temporary password, namely, 1234. The system will respond: "Thank you. You should now change your password to a password only you know." Listen to the tutorial and select a password that you are certain to remember.
When you have established a password, you will find yourself at the Main Menu. Follow the instructions on changing your prompt level. The prompt level determines how many options you will hear when you check your Voice Mail. Until you are familiar with the system, we recommend the extended prompt level.
Recording your Message
Call into the voice mail system as described above. After entering your password you will hear "Main Menu" and the following options:
To review messages press 1.
To send a message press 2.
To locate messages press 3.
To change your personal options press 4.
Press 4 to access the Personal Options menu. You will hear the following:
To change administrative options press 2.
To record greetings press 3.
Press 3 to select Greetings, where you will hear another series of options:
To change your personal greetings 1.
To create your extended absence greeting press 2.
To change your recorded name press 3.

To exit press star [*].
From here you are on your own to follow the prompts relative to your mission. If you are recording a greeting for the first time, you should select 1, in which case, you will hear the following:
To select a standard greeting that will tell callers you are unavailable, press 1.
To record a personal greeting press 2.
The first choice is the option to let the voice mail system tell callers that you are not available. All you add is your name. The second choice is to record you own message in its entirety. Remember to press # to end recording. You can re-record until you are satisfied by pressing *. When you are satisfied, press # to save your message. You can then hang up or press * to return to the Main Menu.
The manufacturer puts out an 88-page manual in PDF format that explains every intricacy of our voice mail system. The above instructions should get you rolling, but you are welcome to delve deeper.